---
🍷 Elevate Your Wine Display 🍷
🌟 Unparalleled Beauty: Crafted with exquisite pearls, our wine rack adds a touch of opulence to your home. The iridescent pearls glisten like moonlight on water, creating an awe-inspiring focal point for your wine collection.
💫 Handcrafted Excellence: Each pearl is carefully selected and hand-threaded to create a truly unique and luxurious wine display. Craftsmanship meets artistry in every piece.
🔒 Secure and Stable: Our innovative design ensures your wine bottles stay securely in place, so you can enjoy peace of mind while showcasing your prized vintages.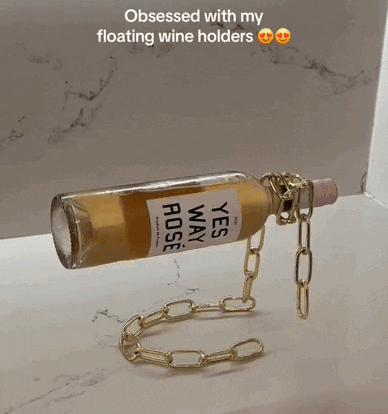 🍾 A Gift to Remember 🎁
Looking for a thoughtful gift? The Floating Pearl Wine Rack is perfect for weddings, anniversaries, birthdays, or any special occasion. It's a conversation starter and a cherished keepsake.
📦 What You'll Receive 📦
The Floating Pearl Wine Rack (easy to install)
A touch of luxury that transforms your space
👩‍🍳 Perfect for Wine Lovers and Hosts 🍽️
Imagine the envy of your friends as they admire your exquisite wine rack, perfectly enhancing your wine and dining experiences. It's time to elevate your passion for wine!
Cheers to exceptional wine, style, and sophistication! 🥂🍇